<![endif]-->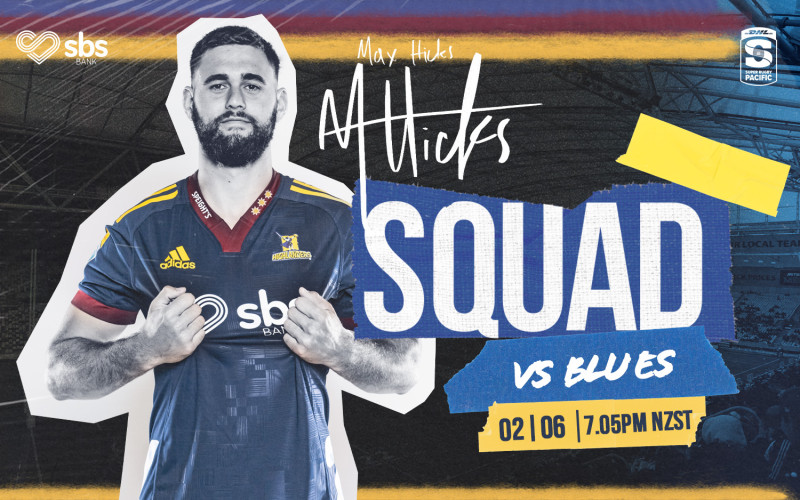 ">
Highlanders named to play Blues at Eden Park
31 May 2023
The last round robin game of the season has plenty riding on it as the Highlanders head north to Auckland to take on the Blues for the Gordon Hunter Memorial Trophy. A win would seal a place in the top eight play-offs while a loss would mean relying on other results to go their way.
Head Coach Clarke Dermody has kept faith with the players that produced a pulsating win over the Queensland Reds. The only change being Scott Gregory comes onto the right wing as Jonah Lowe falls out of the 23 and Fetuli Paea joins the substitutes.
Centre, Matt Whaanga, a last-minute replacement against the Reds, retains his place alongside goal-kicking phenomenon Sam Gilbert who is currently kicking at around 88% from the tee. Aaron Smith and Folau Fakatava will again be looking to provide the one-two punch at halfback while Freddie Burns will start his third match in succession at first-five and Mitch Hunt will again start at fullback.
The well performed front row of De Groot, Makalio and Ainsley will look to apply pressure through the scrum and there are plenty of good loose forward options both starting and on the bench.
Blues v Highlanders – 7.05pm, Friday 2nd June, Eden Park, Auckland
Ethan de Groot
Andrew Makalio
Jermaine Ainsley
Pari Pari Parkinson
Max Hicks
Shannon Frizell
Billy Harmon (C)
Hugh Renton
Aaron Smith
Freddie Burns
Jona Nareki
Sam Gilbert
Matt Whaanga
Scott Gregory
Mitch Hunt
Reserves: 16. Rhys Marshall 17. Daniel Lienert-Brown 18. Saula Ma'u 19. Marino Mikaele-Tu'u 20. Sean Withy 21. Folau Fakatava 22. Connor Garden-Bachop 23. Fetuli Paea
Not Available due to injury: Vili Koroi (knee) Luca Inch (thumb) Marty Banks (groin) Jeff Thwaites (back) Josh Timu (ankle) Jake Te Hiwi (ankle) Fabian Holland (hamstring) Josh Dickson (personal) Martin Bogado (leg) James Lentjes (shoulder) Thomas Umaga-Jensen (calf)
ENDS