<![endif]-->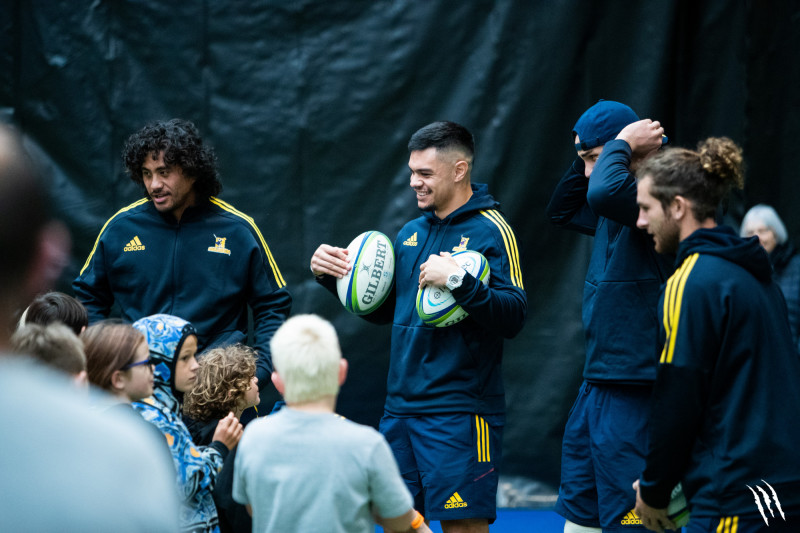 ">
Highlanders get back in the community
19 May 2022
Covid has upset many things for the 2022 DHL Super Rugby Season, community visits and events have been no exception to this. However, following the change in Alert levels to orange at Easter, the players have been able to get back out into the community.
The team visited 20 Primary Schools around the Dunedin area last Thursday. Their visits were met with great excitement at all the schools from both staff and students. Deputy Principal of St Francis Xavier School Teenaka Kennedy said "the kids and everyone was buzzing. Many were begging to go to the next game!"
Fabian Holland, Thomas Umaga Jensen and Hugh Renton spent their time at Francis Xavier School handing out and signing flags for many adoring fans.
Over at St Peter Chanel School Marino Mikaele Tu'u and Scott Gregory put their coaching skills to the test while they engaged in a skills session and game of touch rugby with the students. Principal Tim Lucas said, "Both Highlanders were fantastic with the kids, offering positive messages of perseverance while being humble at the same time."
Meanwhile at Fairfield School Kayne Hammington and Luca Inch enjoyed chatting with the kids and joining in on rugby games with them. They liked the opportunity to get to know some of their younger fans and hear about their dreams of playing for the Highlanders one day.
Being connected to the community is important to the players. Their support at each of the games means a lot, so any opportunity to head out and give back to the fans is relished by the players.
" As players we all remember when we were little kids and the passion we had for sport , so we enjoy heading out to schools to talk to the children about playing and having fun with their sport" said Hammington
Our next community event will be this Saturday when the players head out to help referee junior rugby.