The John Jones Steel High Performance Programme was established in 2020 with the goal to ensure we identify and keep our local-based talent in the region and also to attract talent from outside the region to help fast track their development to become Highlanders.
We have a three-step development pyramid of Learn, To Earn, The Opportunity. That we rely on to help develop good Highlanders on the field but also better Highlander Men off it.
Learn: The foundation of our performance PYRAMID is how well we learn to perform consistently - firstly as individuals, then as a team.
To Earn: On a day-to-day basis, on and off the field, perform to a level that earns the right to represent.
The Opportunity: Only a lucky few get to represent us each week.. They will have earned it.
John Jones Steel is one of the largest and most advanced structural steel fabricating enterprises in New Zealand. Frank and his team at John Jones Steel are proud to back the boys coming through the Highlanders High Performance Programme. Their support not only allows the Highlanders to identify the best local talent and attract players to our region, it also helps us create a world class programme to develop these young players.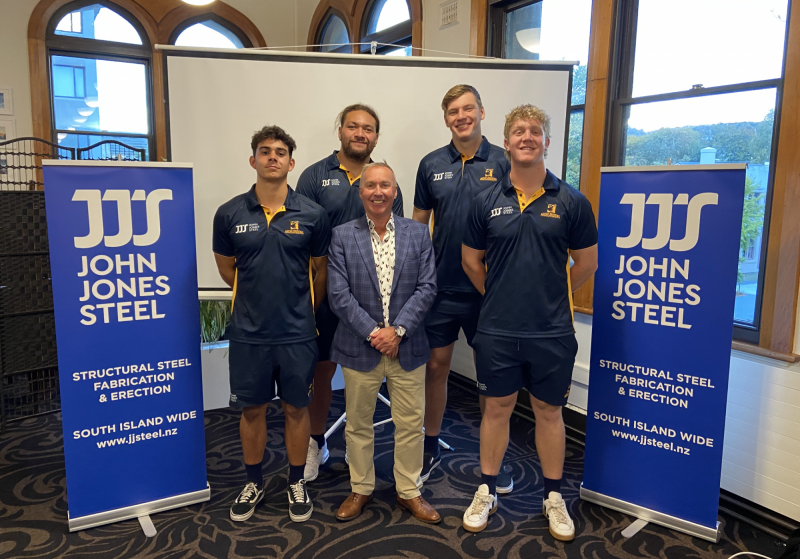 Frank van Schaijik, John Jones Steel Managing Director, pictured with (left to right) Noah Hotham, Saula Mau, Fabian Holland and Sean Withy at the Highlanders High Performance launch.
Alefosio Aho
Position: Lock

Born: 15/02/03

Height: 198cm

Weight: 133kg

School: St Kentigern's College
Semisi Tupou-Ta'eiloa
Position: Loose Forward

Born: 25/11/03

Height: 183cm

Weight: 114kg

School: Otago Boys' High School
Will Stodart
Position: Loose Forward

Born: 29/10/03

Height: 195cm

Weight: 114kg

School: St Andrew's College
Ajay Faleafaga
Position: First Five Eighth

Born: 02/02/03

Height: 175cm

Weight: 89kg

School: St Peters College, Epsom
Jeremiah Asi
Position: Outside Back

Born: 10/09/03

Height: 188cm

Weight: 100kg

School: St Peters College, Epsom
Finn Hurley
Position: Fullback

Born: 25/06/03

Height: 174

Weight: 76

School: Otago Boys' high School
Reuben Palmer
Position: Lock

Born: 03/03/04

Height: 197cm

Weight: 128kg

School: Tauranga Boys College
Max Ratcliffe
Position: Loose Forward

Born: 27/07/04

Height: 190cm

Weight: 112kg

School: Napier Boy's High School
Josh Whaanga
Position: Midfield

Born: 15/03/04

Height: 193cm

Weight: 98kg

School: John McGlashan College
Stan McClure
Position: Outside Back

Born: 13/05/04

Height: 184cm

Weight: 93kg

School: John McGlashan College
Kyan Rangitutia
Position: Outside Back

Born: 15/03/05

Height: 195cm

Weight: 93kg

School: St John's College, Hamilton
High Performance Programme Graduates
| | | | |
| --- | --- | --- | --- |
| Name | Year Graduated | Super Rugby Debut | Team |
| Sean Withy | 2021 | v Crusaders 2022 | Highlanders (#320) |
| Saula Ma'u | 2021 | v Hurricanes 2022 | Highlanders (#317) |
| James Arscott | 2021 | v Waratahs 2021 | Highlanders (#310) |
| Fabian Holland | 2022 | v Blues 2022 | Highlanders (#319) |
| Noah Hotham | 2022 | v Highlanders 2023 | Crusaders (#270) |
| Jack Taylor | 2023 | v Drua 2023 | Highlanders (#339) |
| Cameron Millar | 2023 | v Force 2023 | Highlanders (#337) |
| Oli Haig | 2023 | v Force 2023 | Highlanders (#335) |
| Jake Te Hiwi | 2023 | v Chiefs 2023 | Highlanders (#333) |
| Nathan Hastie | 2023 | v Force 2023 | Highlanders (#340) |
| Hayden Michaels | 2023 | | Signed to 2024 Highlanders |
| Ajay Faleafaga | 2023 | | Signed to 2024 Highlanders |