<![endif]-->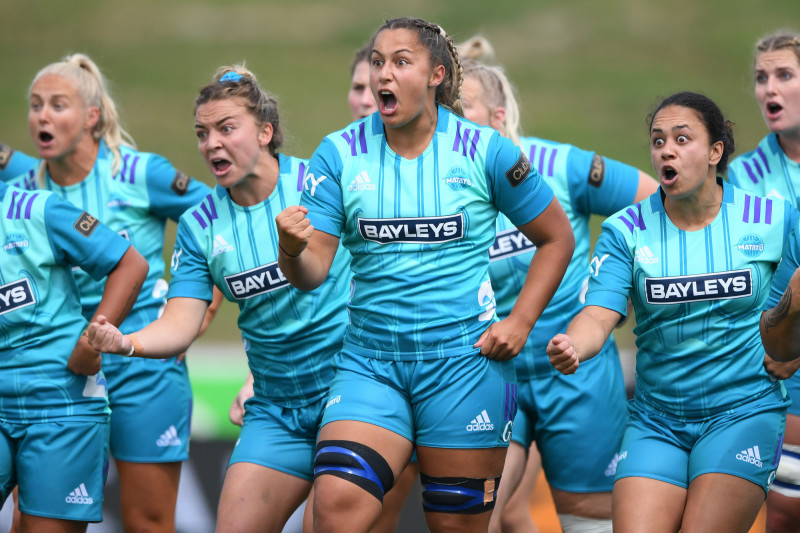 ">
South Island Women's team unveil unique identity for Super Rugby Aupiki
12 October 2021
Women's rugby in New Zealand will take another leap forward in 2022, when Super Rugby Aupiki takes place over four weekends in March. The competition, launched last week by New Zealand Rugby, will feature teams from the Blues, Chiefs and Hurricanes, as well as a combined South Island team encompassing the Crusaders and Highlanders regions.
A blessing for the new South Island team was held today in Christchurch, during which the team's name, logo and colours were officially unveiled to those in attendance.
"Work began on building the team identity in March this year when the competition was first mooted by New Zealand Rugby," Crusaders General Manager Women's Professional Rugby, Sarah Munro, said.
"When we started this process, we realised we had an exciting opportunity to build a brand story outside of the traditional Super Rugby clubs of the Crusaders and Highlanders – one that encompasses the unique collective values of the South Island team.
"The team's values were developed in the initial part of our consultation process, which engaged current and past players, key female figures within the rugby community of the South Island, the two resident Super Rugby Clubs and also Ngāi Tūāhuriri.
"It was from our four core values that our team name and identity, including the logo and colours, evolved."
The four values identified that will form the foundation of the team are; TŪMANAWA (Determination); TŪAHO (Legacy); TŪTIRA (Unity) and TŪHONO (Connections) and alongside these values is a guiding principle that this team will inspire all young females to be the very best they can be.
Matatū, a name gifted by Ngāi Tūāhuriri, will be proudly carried forward by the South Island Women's team, when they compete in Super Rugby Aupiki next season.
Matatū is an instructive command to remain steadfast with head held high, alert and ready to take on any and every challenge head on. The term Matatū has, in recent years, become synonymous with Aoraki, the highest peak in the South Island. It speaks to the mana he holds as the enduring watchful guardian of all those who reside in Te Waka o Aoraki (South Island.)
The name, colours and Tohu (logo) design were created by local artist and designer Morgan Mathews-Hale, and the work was completed in partnership with Te Whaka Ako Limited.
Mathews-Hale said: "Our tohu reflects the mana of Aoraki as our central maunga, and depicts our collective purpose and our shared connections. Its relationship to the values strategy echoes through our representatives, onto our communities and honours the whakapapa (genealogy) of elite women's rugby in the South. I am honoured to contribute to the foundations of our team, Matatū.
"We are so proud to have this inspiring name and narrative bestowed on us, and we will wear our new Tohu with pride when we run out for our opening game in 2022," Munro continued.
"We're incredibly grateful to Morgan, Aunty Liz, Danna and Sarah-Jane for their support and guidance in bringing this beautiful identity to life over the past few months."
Danna Robson, of Te Whaka Ako Limited, added: "We are humbled to be a part of the legacy of this team and have relished working alongside like-minded māreikura (noble, influential woman) like Sarah and Morgan to support the reikura (elite female athletes) to bring their aspirational values to life."
Matatū has today confirmed the appointment of two assistant coaches, Whitney Hansen and Tony Christie, as well as its first five contracted players – Kendra Cocksedge, Pip Love, Steph Te Ohaere-Fox, Grace Brooker and Te Rauoriwa Gapper.
Blair Baxter, who last week was officially announced as Matatū Head Coach, said: "We are currently confirming the remainder of our playing group for Super Rugby Aupiki, which is hugely exciting for everyone involved.
"In discussing the team's aspirations and values, it has been inspiring to hear about each player's journey to become a professional rugby player. Dreams are being realised which is remarkable and I'm looking forward to working with these players, coaches, and our management team, to live the values of Matatū every day in our environment."
The values and ambition behind Matatū has also been matched by the support of two national New Zealand brands.
Bayleys Canterbury has confirmed that they will be the Principal Partner of Matatū, with the Bayleys logo to appear on the front of the team's playing jersey.
Bayleys Canterbury CEO, Pete Whalan, said: "Matatū has such an inspiring story, connected to the people and places throughout the South Island of New Zealand, and we're thrilled to support them as they embark on a new competition next year.
"Bayleys Canterbury takes pride in our connection to the community, and we look forward to being part of this historic side and supporting their ambition to inspire the next generation of elite female rugby stars."
The University of Canterbury (UC) will be a brand partner of the team in 2022, and will also have their logo on the playing jersey next season.
University of Canterbury Vice-Chancellor Professor Cheryl de la Rey said: "The University of Canterbury is committed to gender equity and social inclusion, and we are proud to support South Island wāhine competing under the Super Rugby banner. It is pleasing to see nearly a quarter of Matatū contracted so far are UC-educated wāhine, paving the way for future generations."
UC Kaihautū Taunaki Tangata Director – Equity and Business Management, Rīpeka Tamanui-Hurunui added: "At UC, we value whanaungatanga, manaakitanga and tiakitanga, which are about valuing, empowering and caring for people and nurturing our resources. The principles of 'Kia tika, kia pono, kia aroha - doing what is right with integrity and empathy' underpin our values. Given what we stand for, supporting Matatū is something we are proud to do, and is a positive step on the journey of building a more equitable Ōtautahi, and wider Aotearoa."
ENDS
For the full Matatū brand story, logo suite and brand video please click here.