<![endif]-->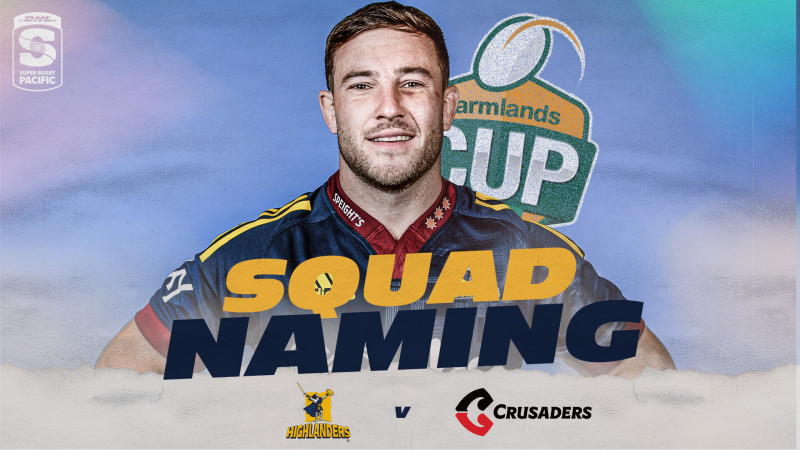 ">
MEDIA RELEASE: Squad Announced for Preseason Opener in Weston
8 February 2023
The Highlanders have predictably announced a large squad to play the Crusaders on Friday in Weston for the Farmlands Cup.
The Farmlands Cup brings the great rivalry between the Crusaders and Highlanders to a different South Island rural community every year.
This year the Valley Rugby Club in Weston will again play host after a false start in 2022 when the game was forced to play out behind closed doors due to COVID-19 restrictions. This year the local rugby faithful will finally get their early look at the two South Island based teams.
The teams are playing for more than just the trophy, with Farmlands donating $5,000 towards to winning team's chosen charity. The Highlanders charity being the Salvation Army and the Crusaders the NZ Flying Doctors.
The Farmlands Cup is a pre-season highlight for the teams and fans, "the annual Farmlands fixture against the Crusaders marks the start of our rugby calendar for the year and is normally the culmination of a lot of hard work during the pre-season," said Clarke Dermody, Highlanders Head Coach.
It will be a first run out for Argentinian outside back Martin Bogado in Highlanders colours and in contrast, veteran lock Josh Bekhuis, will don the jersey for the first time in nine years after making 82 appearances for the club between 2009-14. He is currently in the squad as an injury replacement.
It will also be the first opportunity some of the younger up-and-coming Highlander's talent such as forwards Nikora Broughton, Oli Haig, Jack Taylor and backs, Finn Hurley and Cam Millar.
FIRST HALF TEAM: Forwards: Ayden Johnstone, Andrew Makalio, Saula Mau, Will Tucker, Josh Bekhuis, Max Hicks, James Lentjes (c), Nikora Broughton. Backs: Kemara Hauiti-Parapara, Cam Millar, Mosese Dawai, Scott Gregory, Isaac Te Tamaki, Martin Bogado, Finn Hurley
SECOND HALF TEAM: Forwards: Rohan Wingham, Jack Taylor, Jermaine Ainsley, Paripari Parkinson, Josh Dickson, Oliver Haig, Sean Withy, Marino Mikaele-Tu'u, Jacob Payne. Backs: James Arscott, Mitch Hunt (c), Jona Nareki, Thomas Umaga-Jensen, Josh Timu, Jonah Lowe, Sam Gilbert
ENDS