<![endif]-->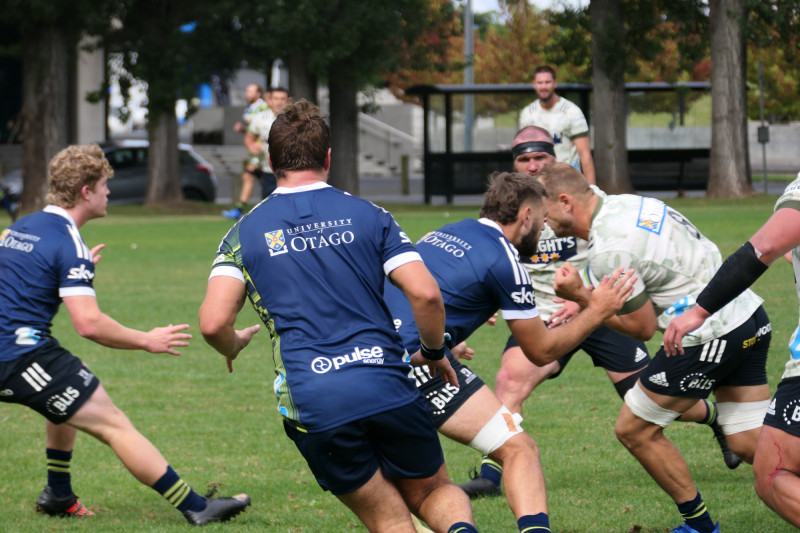 ">
Highlanders named to kick off 2022 in Weston
3 February 2022
The Highlanders have named the first team of 2022 to play the Crusaders in Weston on Friday.
In true pre-season fashion, the Highlanders have named a 33-man team in what will be the first in-game opportunity for players to challenge for a spot to play in round 1 of Super Rugby Pacific against the Chiefs.
Three key players are returning from injury to take the field on Friday with one being Folau Fakatava. Fakatava's 2021 season cut was short after he suffered a knee injury following some impressive form in the early stages of Super Rugby Aotearoa. Thomas Umaga-Jensen and Fetuli Paea will also take the field after spending 2021 on the side-lines recovering from shoulder and ankle injuries respectively.
Highlander's Head Coach, Tony Brown, is looking forward to seeing Fakatava, Umaga-Jensen and Paea return to the field.
"It's good to have TUJ, Fetuli and Fakatava back, they bring a bit of X-factor to their positions and have been working hard to get back to full fitness. This is an opportunity for us as coaches and for the players themselves to see where they are at."
There will also be a number of new players pulling on the Highlanders jersey for the first time on Friday with Brown adding that recent signings Mosese Dawaii and Vereniki Tikoisolomone, will be exciting to watch and that he will be keeping an eye on Otago youngsters, Sean Withy, Fabian Holland and Christian Lio-Willie to see how they handle the step up to Super Rugby.
Friday's game is being played behind closed doors under the current red traffic light setting and Brown commented, "it's a real shame we can't have a crowd at Weston, we've had some great Farmland's Cups over the years, and they are always packed out with our rural supporters. We know we have some staunch Highlanders supporters in North Otago and its really disappointing not to be able to put on a show for them – it would have been a great way to kick off our 2022 campaign".
Both teams and match officials will observe a moments silence before kick-off to acknowledge the passing of David Rhodes. Rhodes served as Vice President and then President of the New Zealand Rugby Union from 2013-2017, and served on the Canterbury Rugby Union board for 12 years, including six as chairman, and sat on the board of the Crusaders for seven years.
The Farmlands Cup will not be contested at this game and will be rescheduled in consultation with Farmlands to be contested during the Super Rugby Pacific competition should games be able to be played in front of full crowds.
Highlanders v Crusaders – 4pm, Friday 4th February, Weston Park
Daniel Lienert-Brown
Liam Coltman
Jermaine Ainsley
Manaaki Selby-Rickit
Josh Dickson
Gareth Evans
James Lentjes (C)
Hugh Renton
Folau Fakatava
Mitch Hunt
Scott Gregory
Thomas Umaga-Jensen
Fetuli Paea
Mosese Dawai
Sam Gilbert
Reserves:
Luca Inch, Rhys Marshall, Flynn Thomas, Josh Hohneck, Saula Mau, Sam Caird, Fabian Holland, Sam Fischli, Sean Withy, Christian Lio-Willie, Kayne Hammington, Nathan Hastie, Marty Banks, Cam Millar, Vereniki Tikoisolomone, Ngatungane Punivai, Josh Timu, Rory Van Vugt
ENDS