<![endif]-->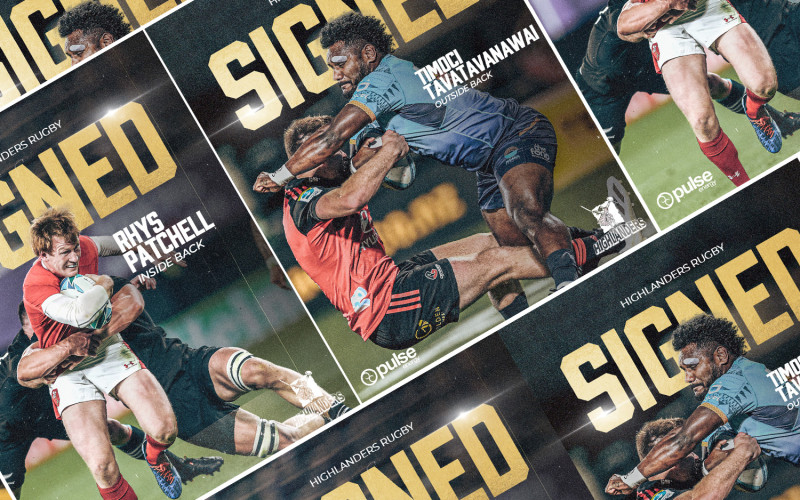 ">
Highlanders Add Further Experience For 2024
12 July 2023
The Highlanders continue their trend of recent years of importing international experience with the announcement that the vastly experienced Welsh International, Rhys Patchell, has signed a one-year deal with the club.
Additionally, the recruitment of the dynamic winger, Timoci Tavatavanawai, will see him join the Highlanders' outside backs division in 2024.
Rhys Patchell, a first-five, and fullback, debuted as a 20-year-old for Wales against Japan in 2013. It was a further three years before his next appearance in the Welsh colours during their 2016 tour of New Zealand where he played against Chiefs in Hamilton prior to starting at fullback in two tests against the All Blacks. He was selected in the Welsh Squad for the 2019 Rugby World Cup in Japan and included in Warren Gatland's Six Nations squad this year. He has played in excess of 160 first-class games for the Cardiff Blues and Scarlets since 2011.
At 1.93cm and 92kg he is a big man for a first-five and his attacking nature should be well suited to southern hemisphere rugby.
Patchell is keen to try his hand at Super Rugby.
"I'm delighted to be joining the Highlanders for the upcoming Super Rugby season. The opportunity to head to Dunedin was too good to turn down. Having watched Super Rugby from afar, I'm excited for the 2024 season to begin. I look forward to getting started and contributing as much as I can both on and off the field."
Highlanders Head Coach, Clarke Dermody, is delighted that terms have been agreed and at the development role Patchell can play for the club with a lot of first-five experience having moved on.
"It's fantastic news that a player with the ability and experience of Rhys will be part of our young squad in 2024. We obviously had Mitch, Marty, and Freddie with us in 2023 and that worked out well, particularly for our younger tens who got to experience and learn from proven professionals. We see Rhys fulfilling a similar role for Cam (Millar) and Ajay (Faleafaga) next season, helping them adjust to Super Rugby and develop their games."
However, Patchell has not been recruited solely for his experience
"I like his attacking mindset and skillset, which should align well with the way we want to play the game. He defends well, has a sound kicking game and his ability to cover fullback will be a real asset to us during the season" said Dermody.
Another asset for 2024 will be the addition of the exciting Timoci Tavatavanawai who enjoyed a stellar season with Moana Pasifika in 2023. Tavatavanawai will bring his barnstorming game to Forsyth Barr Stadium in 2024 on a two-year contract with the Highlanders.
Born and raised in Fiji the 25-year-old was part of the Crusaders and Highlanders wider training groups in 2021 and made his first-class debut for Tasman during the NPC later that year. Following some eye-catching performances in the NPC Moana Pasifika Head Coach Aaron Mauger signed him for the 2022/23 seasons.
Known as a dynamic winger he has the ability to regularly beat the first defender and has turned in some outstanding performances during Super Rugby Pacific this year and proved to be one of the hardest men to bring down in the competition this season – leading a number of Moana Pasifika's attacking stats - and has shown real offensive impact.
Tavatavanawai is thankful for his time with Moana Pasifika and excited for the next step in his career; "It has been an incredible honour to represent my culture during my time with Moana Pasifika and I will always be grateful to the team that made my time there great, I wish them all the best going forward."
"I am committing to the Highlanders next season and I look forward to new challenges and further growth with a team of great players and staff. It's an exciting time to be a part of the Highlanders franchise and I'm thrilled to have the opportunity, said Tavatavanawai.
Clarke Dermody believes Tavatavanawai is a good addition to his team's attacking threats next season.
"I have a connection with Timoci from when we were both with the Mako in the NPC and he has been an injury replacement for us in the past so he knows the club too and we are looking forward to him showing his skillset under the roof. His ability to get a team that all important forward momentum is second to none. His post-contact meters are excellent and he has the potential to be a real weapon on the edge for us and will complement the outside back skills we currently have in the squad nicely.
I am grateful he has decided to join us."
ENDS