<![endif]-->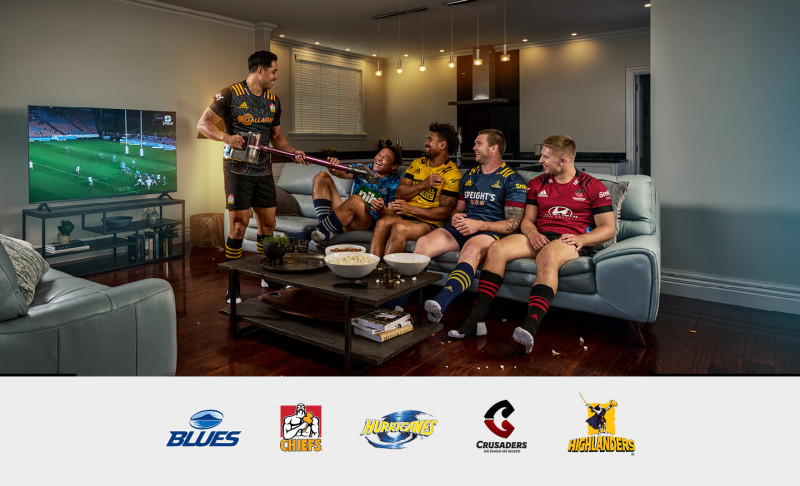 ">
Smiths City Backs New Zealand's Super Rugby Teams
23 February 2021
100% Kiwi-owned furniture and appliance retailer Smiths City is backing New Zealand to be the winner of the Sky Super Rugby Aotearoa 2021 competition.
Announcing a programme of support for all five New Zealand teams, the Highlanders, Crusaders, Hurricanes, Chiefs and Blues, Smiths City Chief Executive Tony Allison says: "We are delighted to be backing the winner of Super Rugby Aotearoa 2021 – New Zealand!
"We understand the fans of each team may be disappointed we are also throwing our weight behind their northern and southern rivals. And we are sorry. But in our defence, we are 100% New Zealand-owned and we reach out across the country. So, in these times, we think it is right to stand up for everything that is great to be a Kiwi.
"Super Rugby Aotearoa represents what's best about our country, and that is why we are backing every team and the broader team of 5 million. It is fantastic to be part of supporting teams at the heart of rugby in New Zealand."
In addition to providing financial support to New Zealand's Super Rugby teams, Smiths City is offering fans across the country opportunities to share in the love Smiths City has for rugby and the Kiwi lifestyle, Mr Allison said.
"We will, for instance, be giving away five full lounge packages (one for a fan of each team), which will include everything they need to watch Super Rugby Aotearoa in the comfort of their own home - and a vacuum to clean up afterwards!
"We will also be running other promotions and game day giveaways of the great products we sell to kiwis every day, so stay tuned."
Highlanders CEO Roger Clark said "to be successful in Super Rugby you need good team mates and it's the same in business. We are delighted to welcome Smiths City to our team in 2021. They are a proven performer who we can rely on to deliver support throughout the season. We are proud to carry their logo on our jersey for each and every game we play this year".
For more information:
Tony Allison Richard Inder
Chief Executive The Project
Smiths City M: 021 645 643
M: 027 66 999 88 E: richard@theproject.co.nz
E: tony.allison@smithscity.co.nz>;
About Smiths City
Smiths City was founded in Christchurch in 1918 and has a proud tradition as one of New Zealand's oldest and largest retail chains. In May 2020 it started a new chapter in its more than 100-year history of supporting heartland New Zealand as it was brought under the new ownership. It now operates 22 stores across New Zealand and is a trusted name in furniture and appliance retailing. On the web: www.smithscity.co.nz