<![endif]-->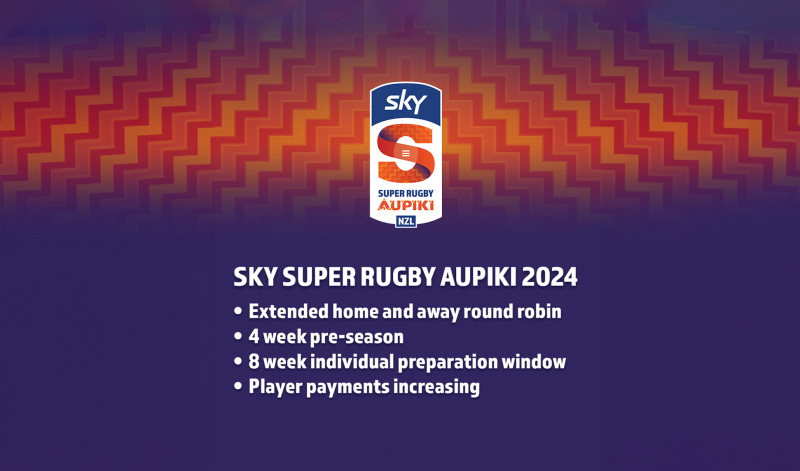 ">
Sky Super Rugby Aupiki 2024 format confirmed
10 October 2023
• Extended round robin season of six weeks plus grand final
• Extended pre-season with two matches
• Increased player payments

New Zealand Rugby (NZR) and the four Sky Super Rugby Aupiki clubs have today confirmed an enhanced 2024 competition format with an increased focus on player development.

Among the changes, an extended competition with a home and away format before a final, a longer pre-season training programme and player payments increasing.

NZR, Super Rugby clubs, Sky and the New Zealand Rugby Players Association (NZRPA) have worked together in developing the improved format as Aupiki continues to grow. By prioritising players' access to high performance support in the build-up to the competition, fans can expect the most exciting season to date.

Each club will contract 30 players (an increase of two players per squad) who will take part in an eight-week individual paid preparation window before a four-week pre-season that will include two matches.

The season will kick off in March with six weeks of round robin action before the top two teams play off for the title in a final. Matches will be a mix of standalone fixtures and double-headers with their DHL Super Rugby Pacific counterparts.

With the increased time commitment, non-Black Ferns players who are contracted will see payments more than doubling to a minimum of $17,000 for the season.

New Zealand Rugby General Manager Professional Rugby & Performance Chris Lendrum said the ongoing growth of Sky Super Rugby Aupiki was cementing a sustainable competition and providing a strong pathway for high performance athletes.

"We recognise that for Sky Super Rugby Aupiki to be the best on-field showcase for the women's game we need to get the preparation right and are confident that the increased individual training and assembly periods will strengthen our players and as a result, the rugby they produce.

"A full home and away round robin will give fans the chance to see more of their favourite players in action and no doubt culminate in another exciting final like we saw earlier this year.

"There remains potential in the future to combine in some way with Super W in Australia and that will continue to be explored. In the short term we are hopeful we will arrange some preseason fixtures with our trans-Tasman rivals."

Sky Chief Executive Sophie Moloney said: "Sky is proud to have supported Sky Super Rugby Aupiki since the competition's inception. We're pleased to play a role as a funder, broadcaster, naming rights sponsor and promoter of the competition, and look forward to continuing to contribute to its success and to helping young rugby players to 'See the Possible'.

"We look forward to an exciting season, with the 2024 enhancements helping to create an entertainment product that inspires and grows the fan base while also providing a better experience for players and clubs."

This format will be in place for the 2024 and 2025 seasons in the build up to Rugby World Cup 2025 in England.

Clubs are currently working through contracting players at the moment with squads to be finalised within the month.
END