<![endif]-->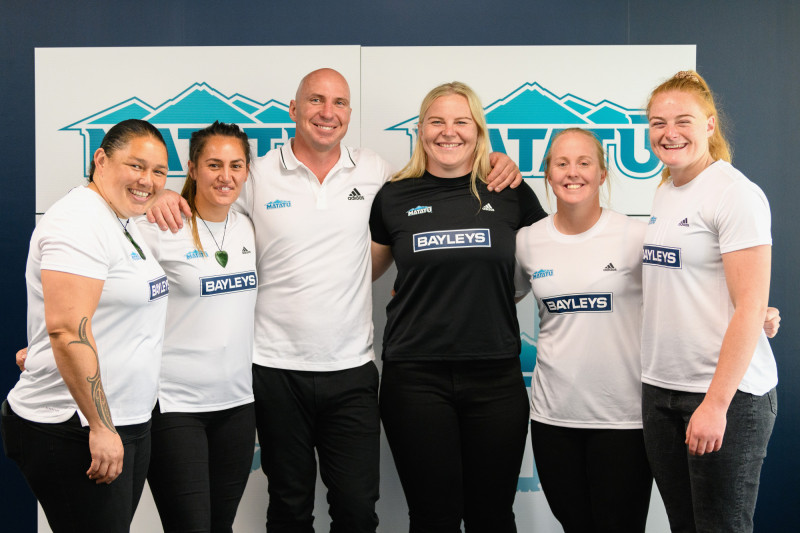 ">
Matatū confirm their inaugural 2022 squad
4 November 2021
Following the successful launch of the new South Island Women's Super Rugby team, Matatū, the club has today confirmed their playing roster for the 2022 Super Rugby Aupiki competition.
Twenty-six players have been named in the inaugural Matatū squad and they include a diverse representation of established Farah Palmer Cup (FPC) players, Black Ferns and Wallaroos internationals, and emerging young talent from across the South Island of New Zealand. Two more names will be added soon to make up a 28-strong contracted squad.
Sarah Munro, GM Women's Professional Rugby, commented that the squad naming is an exciting leap forward for the club, but more importantly, it's a historic moment for the 26 players named today and professional women's rugby in New Zealand.
"From launching this team, to now naming our squad for 2022, the excitement is building here at Matatū," Munro said.
"This really is a watershed moment for professional women's rugby in New Zealand and I would like to acknowledge all those legacy players from around the South Island and New Zealand who have made this possible.
"The values that form the foundation of Matatū speak to unity, connection, determination and legacy and have been informed by those who helped pave the way. We know this squad will represent these values with a lot of pride and will help us bring them to life in 2022, both on the rugby field and in the communities we represent.
"We are humbled to have the ongoing support of our Ngāi Tūāhuriri Taumata and the guidance of Ruawhitu Pokaia and Liz Kererū as our Tūārahi. We are grateful to Te Whaka Ako Ltd, with Danna Robson as Tūtoko, who have continued to support us on our cultural journey."
The Matatū squad includes seven current Black Ferns with forwards Pip Love, Georgia Ponsonby, Amy Rule and Alana Bremner joined by backs Kendra Cocksedge, Renee Holmes and Grace Brooker.
The balance of the squad is made up of players predominantly from the South Island, with Otago players Kilisitina Moata'ane, Greer Muir and Julia Gorinski joining eighteen Canterbury provincial players. Players from other parts of New Zealand include Natalie Delamere (Bay of Plenty), Moomooga (Ashley) Palu (Hawke's Bay) and Holmes (Waikato.)
Also set to add a point of difference to Super Rugby next season are current Wallaroos players, Michaela  Leonard  and Arabella  McKenzie. 
Matatū Head Coach, Blair Baxter, said the key consideration when assembling his squad was setting athletes up for success at Super Rugby level.
"When building this squad, we focused on putting the best possible group together to compete in a professional competition. Alongside this, we have the goal of inspiring young females to be the best they can be and ultimately, setting young players up on a viable pathway in the professional rugby environment," Baxter said.
"It has been exciting to build a squad from both established and emerging talent in the South Island, and to be able to include the experience of the likes of Kendra (Cocksedge) and Steph (Te Ohaere-Fox) means that we have some exceptional leaders within the group from the outset, to help drive our standards.
"As well as the contracted squad, we're currently going through the process of identifying development players from the Tasman and Otago high performance programmes, who will also join our environment. An important part of what we do next year will be supporting these young players and getting them on the pathway to professional rugby, alongside our elite athletes."
Baxter said the addition of impressive Wallaroos internationals Michaela Leonard and Arabella McKenzie will bolster the squad in key positions in 2022, and their character off the field ensures they'll add plenty to the Matatū environment.
"We're really excited about what Michaela and Bella will bring to Super Rugby Aupiki," he continued.
"We've been following the Super W competition in Australia, and both have been stand out performers there.
"Lock and first five-eighth are two positions where we will need to build some depth over time across the Matatū region, but we know these two athletes will come in and be very competitive at this level. They're also really engaging players and share our club's passion for growing the game, so they'll look forward to passing on their knowledge and experience to help develop some local talent right here in New Zealand."
The inclusion of Wallaroos players is also an exciting step for the competition, with Super Rugby Aupiki set to inspire rugby fans on both sides of the Tasman. Fans will also be excited about the potential for a Trans-Tasman format similar to that of Super Rugby Pacific, to evolve in future.
Matatū will come together for two pre-season camps in January and February, before officially assembling in Christchurch ahead of their pre-season game in late February. The Matatū Captain, and Super Rugby Aupiki draw announcements, will be made in the coming weeks. The structure of the competition will see one round robin (three games) be completed before a final in late March.
The squad's only regular season home game will be played at Orangetheory Stadium in March, and this will be preceded by a pre-season game with the location of this fixture still to be confirmed. A home game in either Dunedin or Nelson is part of the planning for the 2023 season.
2022 Matatū Squad:
Lucy Anderson (Canterbury)
Alana Bremner (Canterbury)
Chelsea Bremner (Canterbury)
Grace Brooker (Canterbury)
Kendra Cocksedge (Canterbury)
Natalie Delamere (Bay of Plenty)
Amy du Plessis (Canterbury)
Terauoriwa Gapper (Canterbury)
Julia Gorinski (Otago)
Di Hiini (Canterbury)
Renee Holmes (Waikato)
Lucy Jenkins (Canterbury)
Rosie Kelly (Canterbury)
Michaela Leonard (Canberra, ACT)
Pip Love (Canterbury)
Martha Mataele (Canterbury)
Liv McGoverne (Canterbury)
Arabella McKenzie (Walgett, NSW)
Kilisitina Moata'ane (Otago)
Greer Muir (Otago)
Moomooga (Ashley) Palu (Hawke's Bay)
Marcelle Parkes (Canterbury)
Georgia Ponsonby (Canterbury)
Amy Rule (Canterbury)
Grace Steinmetz (Canterbury)
Steph Te Ohaere-Fox (Canterbury)
Media Opportuntities
Matatū Head Coach Blair Baxter, and three players (Rosie Kelly, Chelsea Bremner and Grace Steinmetz) will be available for media interviews at 10am this morning, at the Apollo Centre in Christchurch. Please RSVP to media@matatu.co.nz with your coffee order by 9am and you will be sent the relevant COVID-19 information for the venue.
A media opportunity with Wallaroos players Michaela Leonard and Arabella McKenzie, is scheduled via Zoom for 3pm (NZT) this afternoon. Please email media@matatu.co.nz if you wish to be sent the zoom link.
ENDS