<![endif]-->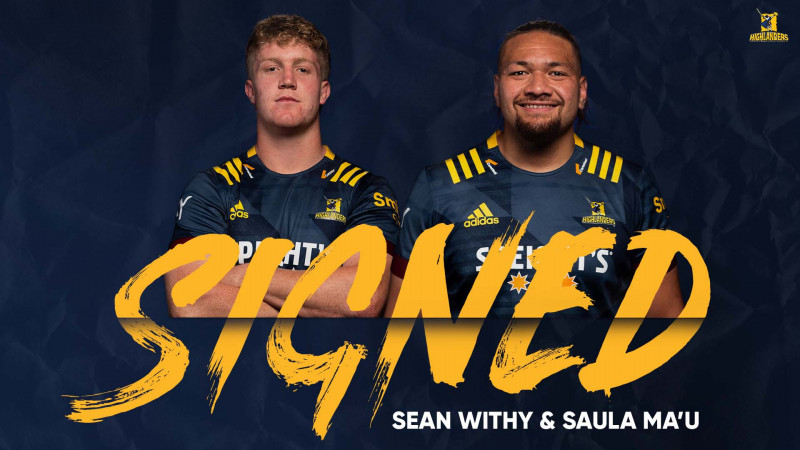 ">
Highlanders invest in the future
29 September 2021
The Highlanders have signed two young, up and coming players to their 2022 squad for the Super Rugby Pacific competition.
Otago players Sean Withy (20) and Saula Ma'u (21) are both graduates of the John Jones Steel Highlander's High-Performance programme and have been guided by Highlanders and Otago High Performance staff for the last two years.
Sean Withy has been earmarked for success since his schooldays, having captained the successful Southland Boys High School First XV in 2017/18 where his work rate, accuracy and defensive work made him a standout performer.
In 2019 he moved to Dunedin to take up study at the University of Otago and immediately made a mark playing for the champion University of Otago Premier team. He debuted for the Otago Mitre 10 team in 2020 and scored a long-range try against Wellington. This year he captained the Highlanders U20 team at the inaugural Aotearoa Super Rugby U20 tournament, displaying outstanding form throughout the week, culminating in being named the player of the tournament.
He was also a member of the NZ U20 team that undertook an internal domestic tour in June and July after the trans-Tasman tour was cancelled due to the COVID-19 pandemic.
He is currently a member of the Otago Bunnings NPC squad.
Tighthead prop Saula Ma'u arrived in Dunedin in 2018 from Auckland Grammar having already been identified as an elite player with selection in the NZ Schools team that included current Blues player Sam Darry and Crusaders prop Tamaiti Williams.
Linking with the Harbour Club, Ma'u at 140kg is still considered a very mobile player and was identified early by Otago and the Highlanders as an exciting prospect, making his debut in the Otago Mitre 10 team in 2019. He was unfortunate to pick up a shoulder injury early in 2020 that ruled him out of the rest of the provincial season. After showing some outstanding form for the Highlanders Development team at the beginning of this year he again sustained an injury playing club rugby that ended his Otago season.
He will join an experienced group of Highlanders tighthead props in Josh Hohneck, Jermaine Ainsley, and Jeff Thwaites.
Both players are looking forward to the experience.
"It's a big thing for both myself and my family to be signing my first Super Rugby contract. I am so grateful for all the opportunities so many people have provided for me, I need to thank all those that have helped me reach my dream. Having injuries over the last few seasons has been hard but for now, I am happy to be looking forward to the Super Rugby season," said Ma'u.
Sean Withy commented, "it's a dream come true for me, being a local boy I grew up watching the Highlanders, it's been a goal mine for as long as I can remember. To have this opportunity now to actually be a Highlander and represent myself and my family is what it's all about."
Assistant Coach, Clarke Dermody, is impressed by the young forwards, "we've seen these guys coming through our system over the last few years and they've quietly gone about learning all the things you require to achieve at the professional level. There is still plenty for them to work on of course as first year professionals but we believe the upper ceiling on these guys is quite high".
ENDS