<![endif]-->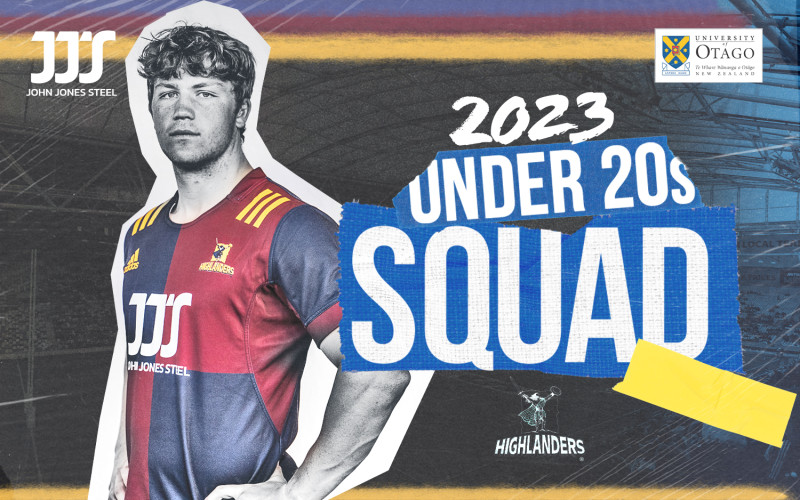 ">
Highlanders U20s Tournament Squad Announcement
15 March 2023
University of Otago Highlanders U20 Tournament Squad
The Bunnings Warehouse Super Rugby under 20's competition will take place in Taupō for the third consecutive year. The first round of matches will be played on Sunday 19th March. This year the competition will be expanding with the addition of a Moana Pasifika and Fijian Drua U20 teams. Along with the five New Zealand Super Rugby sides and a NZ Barbarians squad, the eight teams will compete across two pools to find a champion.
This year's squad includes six members of the New Zealand U19's team that toured South Africa late last year. Forwards; Jack Taylor, Semisi Tupou Ta'eiloa, Will Stodart and backs; Ajay Faleafaga, Finn Hurley and Mefi Tupou. Fullback Finn Hurley, also a New Zealand U20's representative, is returning for a second tournament along with forwards Liam McIntosh, Konrad Toleafoa, Taylor, Tupou Ta'elioa, Stodart and backs Brad Campbell, Faleafaga, Jermiah Asi and Cam Burgess.
The John Jones Steel Highlanders High Performance Programme players Max Ratcliffe, Reuben Palmer, Josh Whaanga and Kyan Rangitutia are also included in the side.
The side will be captained by Will Stodart and led by Head Coach Ryan Bambry with assistants Will Henry, Dean Moeahu, Jason Forrest.
Highlanders Talent Development Manager, Kane Jury, who is managing the campaign is excited by the potential of the team.
"The group has come together well in a relatively short space of time. They have accepted the challenge of preparing for what is going to be a very tough week of rugby against the best under 20 players this country, Fiji and Moana Pasifika has to offer".
The 27-man squad includes six players with Southland connections and 13 players who went to high school in the Highlanders' region. Three recent Highlanders U20 players Sean Withy, Fabian Holland and Cam Millar have already graduated to the top team.
The Highlanders will face a strong Chiefs side in their first hit out on Sunday 19th March at Owen Delany Park in Taupō. Each of these games will be played at Owen Delany Park and broadcasted live on Sky Sport.
2022 Highlanders U20's Squad
Forwards:
Hunter Fahey
Moana Takataka
Liam McIntosh
Thomas Jackson
Fatai Koloi
Jack Taylor
A One Lolofie
Lawrence Leung-wai
Reuben Palmer
Hunter Areaiiti Burgess
Konrad Toleafoa
Will Stodart
Lucas Casey
Max Ratcliffe
Aaron Withy
Semisi Tupou Ta'eiloa
Backs:
Brad Campbell
Fionn McKenna
Ajay Faleafaga
Jeremiah Asi
Cam Burgess
Josh Whaanga
Jack Timu
Caleb Williams
Mefi Tupou
Finn Hurley
Kyan Rangitutia
Management:
Campaign Manager: Kane Jury
Head Coach: Ryan Bambry
Asst Coach: Will Henry, Dean Moeahu,
Skills Coach: Jason Forrest
Team Manager: Simon Wallace
Physio: Karen Meehan
S&C: Ed Lea
Analyst: Sam James-Everton
Nutritionist: Hanna Zouggari
END