<![endif]-->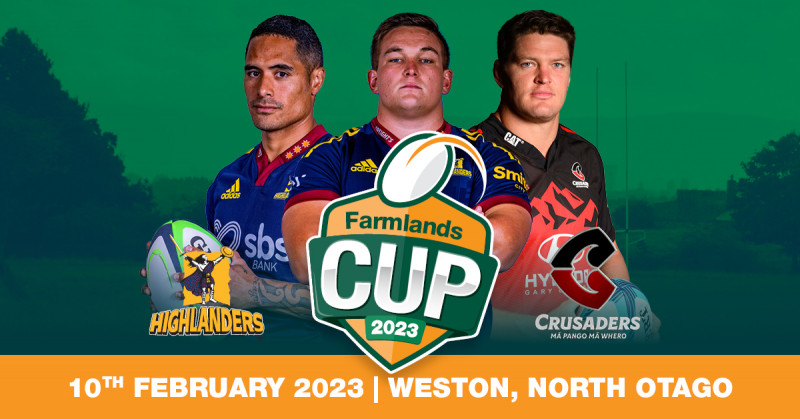 ">
Highlanders set for Farmlands Cup showdown in North Otago
10 October 2022
After a one-year hiatus due to Covid-19, the Crusaders and Highlanders will have a pre-season showdown on Friday 10 February 2023 in Weston, North Otago for the Farmlands Cup.
Through this annual event, Farmlands brings the great rivalry between the Crusaders and Highlanders to a different South Island rural community every year. In the last six years, the prized silverware has travelled to Waimumu, Darfield, Southbridge, Wanaka and Temuka.
The Valley Rugby Club in Weston (about six kilometres from Oamaru) was set to host some of the biggest names in rugby before Covid-19 interrupted plans. Farmlands is pleased to be able to deliver on its promise to the Weston community.
"The Farmlands Cup is a fantastic opportunity for our co-op to give back to the rural communities that we serve and are part of. It is an annual event where a local community can come together, and enjoy a great day and great rugby," says Farmlands CEO, Tanya Houghton.
"It provides a special opportunity for local rugby fans in a small town, in this case Weston, to see their heroes up close playing on their local field."
The teams are playing for more than the trophy, with Farmlands donating $5,000 towards the winning team's chosen charity. The Crusaders charity is the NZ Flying Doctors, with the Highlanders choosing the Salvation Army.
The Crusaders will have the chance to go four in a row if they defend their title this time around. Crusaders Head Coach Scott Robertson knows that the Highlanders are eager to break that streak, especially playing in front of a home crowd.
"The Highlanders are one of our fiercest and most treasured rivals and taking the Farmlands Cup deep into the South Island will create an amazing showdown in front of some of our most loyal fans," he says.
Despite the rivalry between the two sides, there's a great deal of mutual respect. Having the opportunity to bring a match of this quality to rural communities is something the teams look forward to. Highlanders Chief Executive Roger Clark says, "It's a festive day celebrating rugby and our community, and I know the players enjoy the experience."
The Farmlands Cup is a pre-season highlight for the teams and fans. "The annual Farmlands fixture against the Crusaders marks the start of our rugby calendar for the year and is normally the culmination of a lot of hard work during the pre-season," says Clarke Dermody, Highlanders Head Coach.
Adding to the anticipation of the game is that this will be the only opportunity to see the Crusaders play the Highlanders in Aotearoa during the Super Rugby Pacific season. The next time these teams clash will be at Super Round Melbourne, as a Crusaders home game, in March.
Farmlands shareholders will get exclusive pre-sale access to tickets from Friday 14th October. For more information see farmlands.co.nz/cup. Public access will go live mid-December.
END