<![endif]-->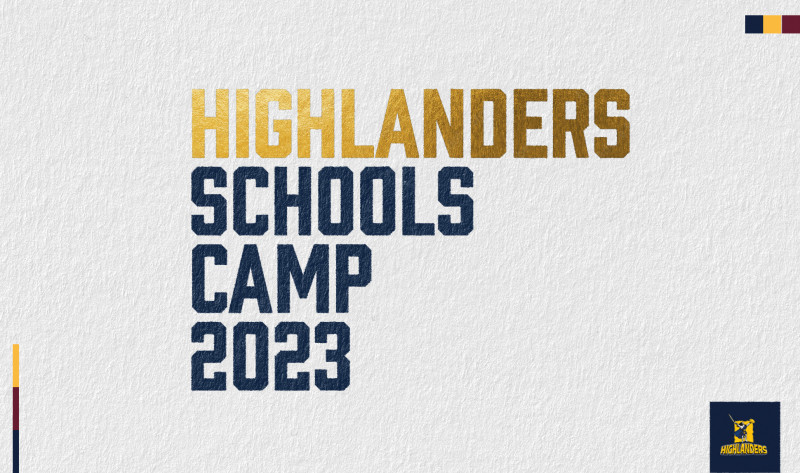 ">
Highlanders select 48-man squad for Secondary Schools Camp
1 October 2023
A Highlanders Schools squad will assemble for a 5-day camp hosted at John McGlashan College from the 4th to the 8th of October. This will be the biggest Highlanders Secondary Schools camp with 48-players selected from over the Highlanders region and eight local coaches from Otago, Southland and North Otago and is being held off the back of a strong year of secondary school rugby for the teams within the Highlanders region.
The main purpose of the camp is to develop the very best talent in the region and provide them the skills and opportunity to further playing aspirations. During the camp players will learn tactical and technical aspects of the game as well getting a better understanding of sports nutrition. Importance placed on players' understanding the balance required, on and off the field, to become a well-rounded athlete, and preparing them for the transition from schoolboy to men's game.
"The first couple of years out of school can be challenging for an aspirant young rugby player. This camp gives us the opportunity to provide them with some insights around the challenges they may face and the tools to work through these challenges when/if they arise" said Otago Rugby Regional Development Coach, Will Henry.
The squad is made up of a wide variety of players from around the Highlanders region with 2023 New Zealand National Secondary School's First XV champions, Southland Boys High School, being well represented with 14 players including Captain, and son of former Highlander, Jason Rutledge.
Otago Boys High School also has strong representation, and the remainder of the squad is spread across Kings High School, John McGlashan College, Waitaki Boys High School, Gore High School, St Peter's Gore, Taieri College and Wakatipu High School.
The squad includes NZ Secondary Schools team representatives Quinten Holland (KHS), Kiseki Fifita (SBHS) and Dylan Pledger (KHS) who are currently away with the NZ Secondary Schools team in Canberra, Australia for a two-game tour against the Australian U18 team.
Coaches for the week are drawn from throughout the Highlanders region including Scott Eade (Southland), Josh Phipps (North Otago) and Regan Turoa (Otago) and will be supported by a strength and conditioning trainer, nutritionist, mental skills trainer and analysts. The 5-day camp culminates with an internal game where the on-field skills and learnings from the camp will be able to be applied in a game setting.
Current Highlanders Josh Dickson, Sean Withy, Cameron Millar, Jermaine Ainsley and Josh Timu have all attended past camps.
"These camps are definitely part of the pathway for our local players to showcase and further develop their talent, it's a great opportunity for the young players from our region" said Highlanders Talent Development Manager, Kane Jury.
Highlanders Secondary Schools Camp Squad:
| | |
| --- | --- |
| Matt Attenborough | Otago Boys High School |
| Liam Barron | John McGlashan College |
| Riley Boylan | Kings High School |
| Ethan Brock | Southland Boys High School |
| Jayden Broome | Gore High School |
| Casey Brown | Otago Boys High School |
| Jerome Buckley-Fa'atioa | Southland Boys High School |
| Sam Chapman | Otago Boys High School |
| Henry Cleaver | John McGlashan College |
| Kane Dynes | Otago Boys High School |
| Philjoseph Elisara | Kings High School |
| Jake Evans | St Peter's Gore |
| Kiseki Fifita | Southland Boys High School |
| JJ Fisher | Southland Boys High School |
| Jalen Forgie | Taieri College |
| Jake Fowler | Otago Boys High School |
| TJ Gallen | Southland Boys High School |
| Quinten Holland | Kings High School |
| Max Hore | John McGlashan College |
| Jackson Hughan | Otago Boys High School |
| Thomas Hulsman | Wakatipu High School |
| Thomas Jennings | Southland Boys High School |
| Rota Lafita | Otago Boys High School |
| Manaia Lesa | Otago Boys High School |
| Emmanuel Levy | Kings High School |
| Tom Lewis | Kings High School |
| Mason Lome-Hindle | Otago Boys High School |
| Isaiah Maole | Otago Boys High School |
| Presley McHugh | Southland Boys High School |
| Harrison Miller | Wakatipu High School |
| Amaziah Mitchell | Southland Boys High School |
| Mike Muiliaina | Southland Boys High School |
| Rico Muliaina | Southland Boys High School |
| Hoani Nikora-Wilson | Southland Boys High School |
| Joe Parkinson | Otago Boys High School |
| Dylan Pledger | Kings High School |
| Faranisoa Poasa | Waitaki Boys High School |
| Gregor Rutledge | Southland Boys High School |
| Henry Scott | John McGlashan College |
| Justin Shaw | Southland Boys High School |
| Thomas Spain | Southland Boys High School |
| Pheonix Tapatu | Otago Boys High School |
| Taitelea Tasi-Cordtz | Otago Boys High School |
| Sailusi Temaka | Kings High School |
| Oliver Thode | Otago Boys High School |
| Will Thode | Otago Boys High School |
| T'io Uasila'a | Waitaki Boys High School |
| Tamati-Maru Willie Junior | Waitaki Boys High School |
Unavailable for selection (due to injury): Preston Evans
END