<![endif]-->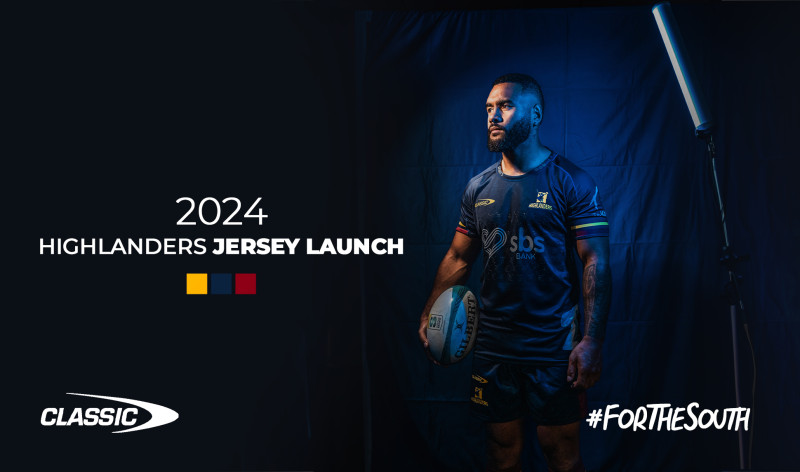 ">
Highlanders Release Inaugural Classic Range
22 November 2023
The Highlanders Rugby Club is proud to reveal their brand new on field playing strips and off-field training range for 2024. The entire range is a result of a collaboration with Highlanders new apparel partner, Classic.
The 2024 home jersey retains the iconic dark blue base, synonymous with the Highlanders and a steadfast choice for the home jersey while the alternate clash strip, is a nod to the Southland and North Otago provincial union colours, featuring a maroon base.
This classic design in both on-field kits reflect the unity and strength of region, the unwavering spirit and no-fuss approach that embodies the characteristics of the region, echoing a proud history of resilience and hard work without unnecessary complexity.
A standout feature of the jerseys is the innovative grip strip across the front, displaying imagery from the Highlanders insignia—the Highland warrior. With arms raised in defiance, proud and strong, the warrior wields a claymore and shield, symbolising the perfect balance between attack and defence.
Drawing inspiration from the enchanting Southern Lights, the Aurora Australis, the training jersey and teamwear showcase the vivid colours and formations and make for a distinctive jersey. A very Southern phenomenon, the Aurora Australis, visible during the Autumn and Winter months, capturing the dynamic and vibrant spirit of the Highlanders team.
The Highlanders are excited to bring these Southern-inspired jerseys to the field, symbolizing the strength, resilience, and heritage of the team and its passionate supporters.
Highlanders CEO, Roger Clark, commented, "The playing strip is an integral part of our brand, we appreciate the jersey means a great deal to a lot of our supporters and it's a symbol of the pride we have in our region.
We are delighted that our new partner, Classic, has been able to incorporate so much of what makes the Highlanders unique to the South in the training and teamwear. It's a distinctive new look and thus far the feedback has been very favourable."
The Highlanders 2024 range will be available in stores in December 2023 and online via the Highlanders Shop in January 2024.
END