<![endif]-->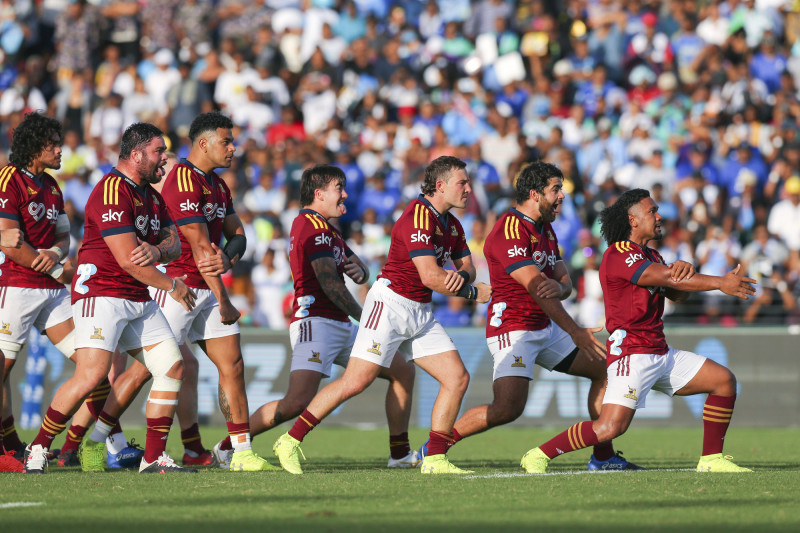 ">
Highlanders named in Māori All Blacks Squad to face Ireland
15 June 2022
Māori All Blacks Coach Clayton McMillan has named a strong squad ahead of his team's two-match series against Ireland.
It will be the first time the Māori All Blacks have played Ireland since 2010 with the two highly anticipated mid-week matches to be played at FMG Stadium Waikato in Hamilton (Wednesday, 29 June) and Sky Stadium in Wellington (Tuesday, 12 July).
Tickets are available from tickets.allblacks.com with both matches to be live and exclusive on Sky.
"We are expecting a fierce challenge from Ireland, to be playing a tier one nation at home in Aotearoa has been long awaited. The squad named is a mix of experienced players who know how to perform at this level, and players that bring fresh perspective and energy to the game," McMillan said.
"We are lucky to have three experienced All Blacks in the squad in TJ Perenara (Ngāti Rangitihi), Brad Weber (Ngāti Porou) and Tyrel Lomax (Muaupoko / Ngāi Tūhoe), I'm looking forward to the passion and knowledge they will bring. This is also a great opportunity for our 11 new caps, there is immense pride in pulling on the Māori All Blacks jersey and with that representing their heritage, their whānau, and their country.
"These two fixtures against Ireland will allow players to showcase what they have and put their best foot forward on an international stage. The presence of two former Māori All Blacks in the Ireland side, Jamison Gibson-Park (Ngāti Porou / Ngāi Tai) and James Lowe (Ngāpuhi / Ngāi Te Rangi) adds to the special nature of this match."
McMillan and his co-coaches Roger Randle and Chris Gibbes will announce their captain in due course.
The Māori All Blacks have played Ireland on just two previous occasions, the most famous being the New Zealand Natives 13-4 win at Landsdowne Road in Dublin in 1888. The only other match between the two sides was in 2010 at Rotorua International Stadium where the Māori All Blacks won a thrilling match 31-28.
Te Kapa Ōpango Māori ka tukituki ki a Airani
Kua whakaingoa te kaiako matua o te kapa Ōpango Māori a Clayton McMillan i tana kapa ka tukituki ki a Airani i ngā tākarohanga e rua.
Ko te tukinga tuatahitanga tēnei ki a Airani mai anō i te tau 2010 me te aha ko ngā kēmu e rua ka tākarohia ki FMG Stadium Waikato ki Kirikiriroa (Wenerei 29 o Pipiri) me Sky Stadium ki Te Whanganui-a-Tara (Tūrei 12 o Hūrae).
Tonoa ngā tīkiti i tickets.allblacks.com ka whakapāhotia ngā kēmu e rua ki Sky.
"Kua roa nei mātau e tatari ana ki te tākaro atu ki tētahi o ngā kapa toa ki Aotearoa nei, ā, kei te pōhiritia te wero a Airani. Kua tīpakohia tētahi kapa kaitākaro kua wheako kē i te taumata e hiahiatia ana kia eke i tēnei taumata, ā, kua tīpakohia ētahi taiohi hei whakapiki i te ngao o te kapa". Hei tā McMillan.
"Nō mātau te whiwhi i te momo i ngā Ōpango nei i a TJ perenara (Ngāti Rangitihi) i a Brad Weber (Ngāti Porou) me Tyrel Lomax (Muaupoko/Ngāi Tūhoe). E ihiihi ana ahau ki te kite i te mana me te ihi ka kawe mai rātau. He wheako pai hoki tēnei mō ngā kaitākaro 11 ka whakamau i te poraka nei mō te wā tuatahi, ā, he hōnore nui ki te whakakanohi i tō rātau ahurea, i tō rātau whānau me tō rātau whenua.
"Mā ēnei kēmu e rua ki a Airani e āhei ai ngā kaitākaro nei te whakaatu atu i o rātau pūkenga ki tētahi pae whakataetae o te ao. Ko ngā uri Māori, kaitākaro o mua o te kapa Ōpango Māori anō hoki a Jamison Gibson-Park (Ngāti Porou / Ngāi Tai) rāua ko James Lowe (Ngāpuhi / Ngāi Te Rangi kei te kapa o Airani e tākaro ana, nā reira e mīharo ake ai tēnei tukinga."
Mā te ohu kaiako a McMillan rātau ko Roger Randle, ko Chris Gibbes te kāpene o te kapa e tīpako a tōna wā.
Kua rua anake ngā tākarohanga o mua i waenga i ēnei kapa e rua, ko te mea rongonui ko te toa o ngā New Zealand Natives 13 – 4 ki Landsdowne Road ki Dublin i te tau 1888. Ko te tuarua i te tau 2010 ki Rotorua International Stadium, ā, i toa ko te kapa Māori 31–28.
Māori All Blacks Squad:
*denotes new cap
| | | | |
| --- | --- | --- | --- |
| Props | | | |
| Tamaiti Williams | Ngāpuhi | Canterbury | Crusaders |
| Ollie Norris | Ngāpuhi | Waikato | Chiefs |
| Marcel Renata | Ngāti Whānaunga / Ngāi Takoto | Auckland | Blues |
| Jermaine Ainsley* | Te Rārawa / Te Arawa | Otago | Highlanders |
| Tyrel Lomax | Muaupoko / Ngāi Tūhoe | Tasman | Hurricanes |
| Hookers | | | |
| Leni Apisai | Ngāti Awa | Auckland | |
| Kurt Eklund | Ngāti Kahu | Bay of Plenty | Blues |
| Tyrone Thompson* | Ngāi Tāmanuhiri / Ngāti Rangiwewehi | Hawke's Bay | Chiefs |
| Locks | | | |
| Isaia Walker-Leawere | Ngāti Porou | Hawke's Bay | Hurricanes |
| Manaaki Selby-Rickit | Ngāti Raukawa / Ngāti Tūwharetoa | Bay of Plenty | Highlanders |
| Josh Dickson | Ngāi Tahu | Otago | Highlanders |
| Loose Forwards | | | |
| Reed Prinsep | Te Rārawa | Canterbury | Hurricanes |
| Caleb Delany* | Ngāti Tūwharetoa | Wellington | Hurricanes |
| Billy Harmon | Ngāi Tahu | Canterbury | Highlanders |
| Te Kamaka (TK) Howden* | Ngāi Tūhoe | Manawatū | Hurricanes |
| Cameron Suafoa* | Ngāpuhi | Auckland | Blues |
| Half Backs | | | |
| TJ Perenara* | Ngāti Rangitihi | Wellington | Hurricanes |
| Brad Weber | Ngāti Porou | Hawke's Bay | Chiefs |
| First Five | | | |
| Josh Ioane | Te Rārawa | Otago | Chiefs |
| Ruben Love* | Te Atiawa | Wellington | Hurricanes |
| Midfield | | | |
| Alex Nankivell | Ngāti Pikiao | Tasman | Chiefs |
| Rameka Poihipi | Ngāti Whakaue | Canterbury | Chiefs |
| Billy Proctor | Ngāi Te Rangi / Ngāpuhi | Wellington | Hurricanes |
| Bailyn Sullivan* | Ngāti Kahungunu | Waikato | Hurricanes |
| Outside Backs | | | |
| Connor Garden-Bachop* | Ngāti Awa | Wellington | Highlanders |
| Josh Moorby* | Ngāti Maniapoto | Northland | Hurricanes |
| Zarn Sullivan* | Ngāti Kahungunu | Auckland | Blues |
| Shaun Stevenson | Ngāpuhi | North Harbour | Chiefs |
Source: All Blacks.com