<![endif]-->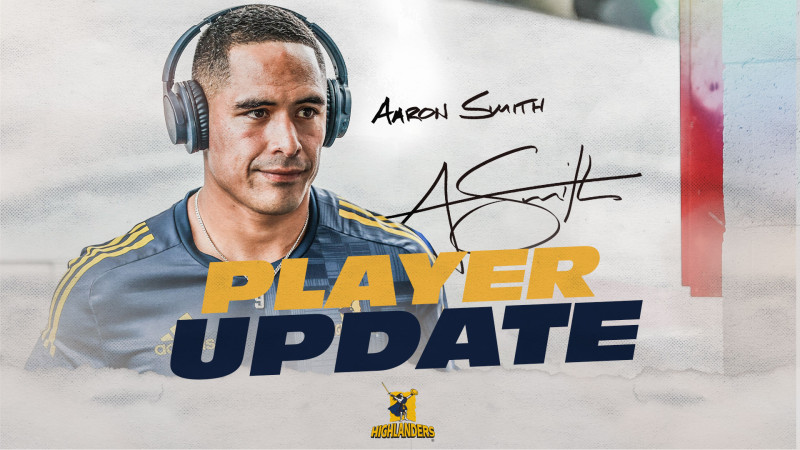 ">
Aaron Smith Confirms Move to Japan
7 February 2023
All Blacks Test and Highlander's centurion Aaron Smith has announced he will spend time playing overseas at the end of 2023.
Smith and Beauden Barrett have signed with the Toyota club in Japan and while Smith has committed to a long-term contract, New Zealand Rugby is working with Barrett on a return to playing on home soil.
Both players have cemented their place in the top echelon of world rugby. The two most-capped backs in All Blacks history, Smith (114) and Barrett (112 – second equal with Dan Carter) are part of an exclusive group to have won Rugby World Cup and Super Rugby titles.
"From the time I signed my first contract in 2008 until now, I have been living my dream," said Smith. I have been blessed to represent my home with the Manawatū Turbos, who helped me chase my dream of being a Super Rugby player.
"I have to say a big thanks to the Highlanders for believing in me. I have done it all with that team and they have always been there for me. Thank you to every Highlanders player, staff member and fan. You have given me everything and more in the 13 years we have had together."
Smith was an integral part of the Highlanders' maiden Super Rugby title in 2015 and is the team's most-capped player (176).
Highlanders CEO Roger Clark said: "You look at Aaron and you think, this guy could go on forever. I know we and every Highlanders fan would want him to.
"Unfortunately, that is not a reality in professional rugby and the time has come to say thank you, good luck, and goodbye. That will not be easy for us, our fans or Aaron. He is such a massive part of the Highlanders story, our most-capped player and surely one of our best ever.
"We wish him, Teagan, Luka and Leo all the very best in Japan, and I would encourage everyone to come out this season and watch the master at work one last time."
Highlanders head coach Clarke Dermody was equally lavish with his praise for the All Black: "Aaron has defined halfback play and the way we like to play the game, fast, skilled, and determined for so long it's hard to imagine a team sheet without his name on it.
"As a team, we can only thank him for all that he has done for us and wish him, Teagan and his family all the best for the future."
The former Fielding High School student debuted for Manawatū in 2008 and has amassed 47 appearances for the province, becoming their most-capped international.
"Aaron's commitment and dedication to Manawatū has been unquestionable," said Manawatū Rugby CEO Andrea Jackson said. "That has been made even more clear in recent seasons when he has donned the famous green and white jersey in between his All Blacks duties, in 2020 and 2021.
"We wish Aaron and his whanau all the best for their next adventure, and we hope to see him back one day to bring up his 50th match for Manawatū."
ENDS