<![endif]-->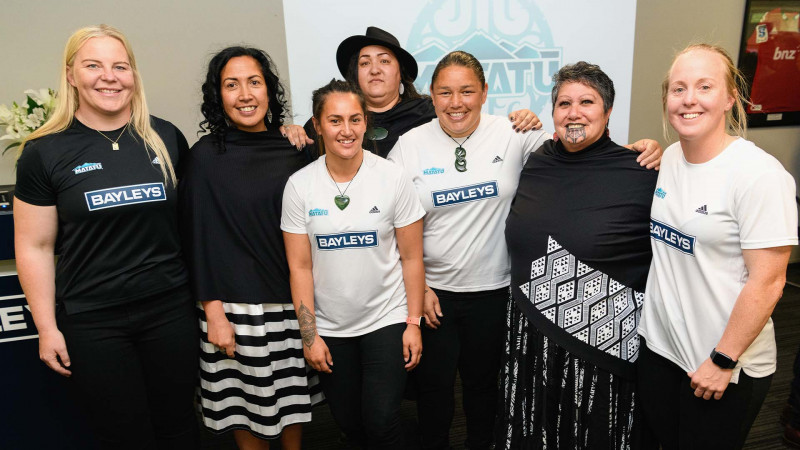 ">
2022 draw confirmed for inaugural Sky Super Rugby Aupiki season
21 January 2022
The highly-anticipated Sky Super Rugby Aupiki draw has been released today by New Zealand Rugby, and will see Matatū host their inaugural match against the Hurricanes at Orangetheory Stadium on Sunday 6th March, at the kick off time of 3:45pm.

Matatū Head Coach Blair Baxter said it is exciting to know the first time Matatū take the field will be on home soil.

"We're really looking forward to representing the South Island in Super Rugby Aupiki, and the opportunity for this team to run out for the first time as Matatū in front of a home crowd is going to be pretty special," Baxter said.

"It'll be a proud moment for our wāhine to put on the jersey and take the field as Super Rugby players, and the chance to celebrate how far the women's game has come with our friends, whānau, and our home fans on March 6 is something we'll certainly embrace during that week."

The short four-week competition means Matatū will host just the one regular-season game in Christchurch, before travelling to Hamilton for Round Two against the Chiefs. Round Three then sees all four clubs descend on FMG Stadium Waikato for the competition's 'Super Round', with Matatū taking on the Blues to close out the round robin stages before the top two sides meet the following week in the first ever Sky Super Rugby Aupiki Final.

New Zealand Rugby have also announced today that Sky will be the naming rights partner of Super Rugby Aupiki, with all fixtures to be broadcast on Sky Sport and free-to-air on Prime, ensuring rugby fans throughout the country can follow the competition in its inaugural year.
In line with the announcement of the draw, Matatū has also confirmed Venues Ōtautahi has joined as a Foundation Partner for the club. Venues Ōtautahi manage Matatū's home venue, Orangetheory Stadium, and will support the team's efforts to connect with and inspire young people throughout the region.

Venues Ōtautahi Chief Executive Caroline Harvie-Teare said: "with our continued focus on positively contributing to the city's social, cultural, and economic wellbeing, this new partnership with Matatū aligns perfectly.

"We want to deepen our connection to the community through experiences and spaces, and what better way to do this than through supporting our Matatūwāhine?

"This is such a significant moment in history for the women's game and we are proud to throw our support behind our local team, and bring them closer to the communities they represent," Harvie-Teare said.
As part of this effort, Venues Ōtautahi will be hosting a 'skills and drills' community event at Orangetheory Stadium in March in collaboration with Bayleys Canterbury who are Matatū's Principal Partner. Selected primary school kids will be invited to come and connect with the Matatū team leading into the side's first game at home.

Matatū General Manager Sarah Munro added: "The beginning of Sky Super Rugby Aupiki gives us a chance to hero parts of the game and our community in new ways, and we're really fortunate to have Venues Ōtautahi on board to help bring some of these ideas to life.

"It's really encouraging to align with organisations who have values that resonate with us and are synonymous with the people and places we represent, so we look forward to having Caroline and her team alongside us during our inaugural season."

Flicket, who provide waste-free ticketing solutions, will also be providing the ticketing services for Matatū and their home games.

Tickets for Matatū's home game against the Hurricanes will go on sale today. Click here for more information.